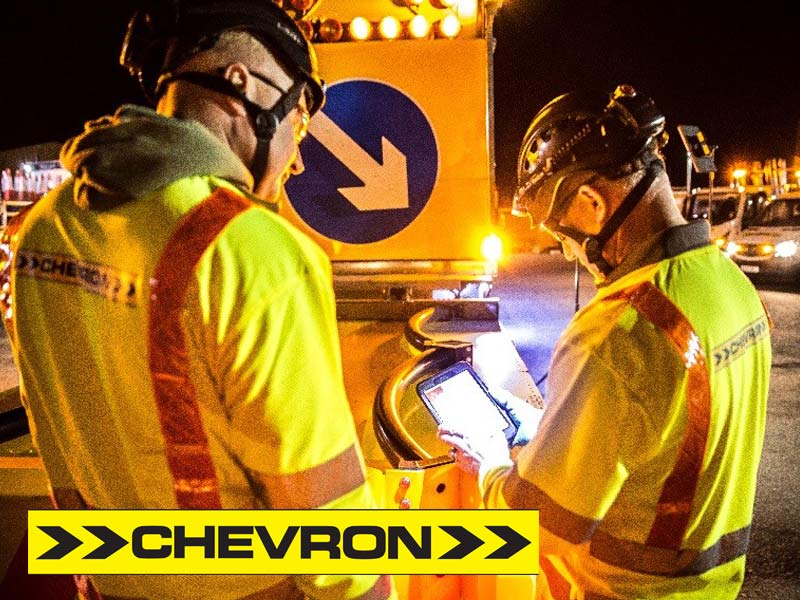 Chevron Traffic Management Ltd
Address
3 Thame Business Park
Wenman Road
Thame
Oxon
OX9 3XA
Email Address
trafficmanagement@chevrontm.com
Chevron protect workers and the travelling public during the maintenance, repair and renewals of roads across the Highways, Rail and Utilities sectors.
We provide instant warning systems that alert the workforce of imminent dangers. Our customer facing systems inform, deter and prevent the travelling public from entering restricted work-zones, significantly reducing unauthorised incursions into worksites.
All our services are connected via secure cloud-based systems, that are resilient and that have been operating faultlessly for many years in harsh environmental and
working conditions. Our work-zones are digitally mapped and can be made visible on any internet connected device, giving authorised individuals real time telemetry 24/7, 365 days a year; showing location, working windows, alarm states and enabling the safe and efficient delivery of works.
We specialise in the provision of TTM throughout the UK in accordance with the nationally recognised Highways Sector Schemes 12A/B/C/D; managing any level of contract, the business provides unrivalled support from consultation and design phase, right through to work completion and sign-off.
Works are fully supported by our Professional Services division who provide an early contractor involvement (ECI) service as well as, producing TTM drawings, surveys & 
design and Temporary Traffic Regulation Order (TTRO) applications.
Address
3 Thame Business Park
Wenman Road
Thame
Oxon
OX9 3XA
Email Address
trafficmanagement@chevrontm.com
Twitter
https://twitter.com/ChevronTM
Facebook
https://www.facebook.com/ChevronTrafficManagement
Linkedin
https://www.linkedin.com/company/chevrontm-ltd
Instagram
https://www.instagram.com/chevrontrafficmanagement